Claude MH Demers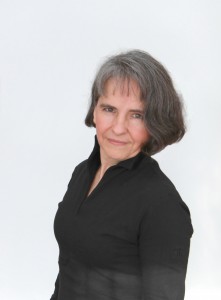 Ph.D. Cambridge M.Arch. U. Laval
Professeure titulaire / Professor
Claude Demers est professeure d'architecture à l'Université Laval, activement impliquée dans l'enseignement et la recherche sur la lumière naturelle à traves des projets subventionnés depuis 1997. Elle a complété un Ph.D. en architecture à l'Université de Cambridge, innovant sur l'intégration des aspects qualitatifs et quantitatifs de la lumière en architecture. Co-fondatrice du Groupe de recherche en ambiances physiques, elle s'intéresse à la biophilie architecturale et la satisfaction environnementale des occupants, associant l'importance du design au comportement des usagers. Elle est experte en modélisation analogique et digitale de la lumière, développant et appliquant son expertise au design innovant de nouveaux bâtiments. Elle a produit des travaux de recherche fondamentale et appliquée liés à l'intégration de stratégies bioclimatiques à l'échelle urbaine, architecturale et du détail pour plusieurs projets ayant reçu des prix d'excellence pour l'innovation architecturale: OAQ, médaille de l'IRAC, prix Energia, prix CECObois, Bomex.
Claude Demers is a Professor of architecture at Laval University, actively involved in teaching and research on daylighting through funded projects since 1997. She has completed a PhD in architecture at the University of Cambridge, innovating on the integration of qualitative and quantitative assessments of daylighting in architecture. Co-founder of the Groupe de Recherche en Ambiances Physiques, she is interested in biophilic architecture and occupant's satisfaction, associating the importance of design to user's behaviour. She is an expert in the digital and analogical modeling of light, developing and applying her research expertise to innovate on new building designs. She has produced fundamental and applied researches favouring the integration of bioclimatic design strategies at the scales of urban, architectural and detail for several projects that have won prizes for architectural innovation: OAQ, RAIC medal, Energia prize, CECObois, Bomex.
Formation académique / Academical backgroun

1993-1997 Doctor of Philosophy in Architecture,Ph.D. University of Cambridge, UK
1991-1993 Maîtrise en architecture, M.arch. Université Laval, Québec, Canada
1984-1988 Bacalauréat en architecture, B.Arch., Université Laval, Québec, Canada
The Sanctuary of Art: images in the assessment and design of light in architecture
The Sanctuary of Art: images in the assessment and design of light in architecture
PhD Thesis, 1997, The Martin Centre for Architectural and Urban Studies, Department of Architecture, University of Cambridge, Cambridge, UK.
Bourses / Scholarships: SSHRC Social Sciences and Humanities Research Council (SSHRC); Fond pour les chercheurs et l'aide à la recherche (FCAR) in Energy, Government of Quebec; Bourse de l'Université Laval; Emmanuel College Travel Scholarship, University of Cambridge; Kettle's Yard Travel Scholarship, University of Cambridge.
This research proposes a design method that enables quantitative and qualitative assessments of light in space. The simplicity of the approach facilitates its integration into the architectural design process by using available technologies. The methodology concentrates on the early design stage since it expresses the architect's intention of a particular atmosphere that will govern further developments of the project. It takes into account the increasing interest in the utilisation of photography as an important part of the design process, and adds a quantifiable aspect to light as it offers the possibility to integrate numerical values when required. The visual representation of light as a pattern, instead of numerical values, facilitates the quantitative assessment and relates to existing techniques of lighting analysis, such as the isolux contours. The research emphasises and develops the possibilities offered by a partially computerised approach using calculation method and physical modelling. It combines the use of physical models, video camera, and computerised image analysis as main tools for the evaluation of light. The resulting data collection and visualisation of the lighting effects constitute a bank of images for the generation of space from lights. The combination of images creates spaces issued from the nature of light, allowing new ideas in the development of the initial design stages. The research defines the potential and limitations of the use of images in the composition of space according to the physical properties of light. The lighting pattern also constitutes the basis for a classification of lights which relates to the design method using images. It proposes a link between quantitative and qualitative aspects of light stemming from spatial components and apertures. The classification acknowledges the architect's intuitive approach to design.
1. Light as architectural form
2. The image of light
3. Contrast as a global integrator
4. Composition with images of light
5. The Sanctuary of Art: between the measurable and the unmeasurable
Supervisor: Dr Dean U Hawkes, University of Cambridge. External examiners: Dr Peter Tregenza, Eng., Scheffield University and Dr C. Malcolm Parry, Eng., Cardiff University.
L'influence du design des ouvertures sur le contraste d'intensité dans les espaces intérieurs éclairés naturellement.
Mémoire de maîtrise en architecture, 1993, École d'architecture, Université Laval, Québec, Canada.
Bourses: Société Canadienne d'habitation et de logement (SCHL); bourse de l'Association des femmes diplômées des universités (AFDU).
La recherche présente une méthode d'analyse quantitative et qualitative du contraste d'intensité dans les espaces intérieurs. Elle permet de définir visuellement des échelles de contraste associées à des morphologies d'ouvertures. La lumière étudiée est essentiellement plastique, non attribuable à une fonction spécifique d'un espace. La méthode utilise les outils de conception de l'architecte tels dessins, maquettes et photos, facilitant son intégration à la pratique architecturale. La photographie répond non seulement à sa fonction traditionnelle d'illustrer qualitativement un concept mais devient aussi le support de l'analyse quantitative du contraste. L'ordinateur et le logiciel de traitement d'images Adobe Photoshop facilitent l'analyse comparative des résultats photographiques.
Caractère de la recherche
La démarche est expérimentale et porte sur l'analyse qualitative et quantitative de la lumière sur l'effet du contraste. La méthode s'intègre à la démarche créatrice de l'architecte où la lumière devient un critère important de production. Elle est qualitative dans la mesure où elle qualifie les ambiances lumineuses. Elle est quantitative dans sa recherche de relations proportionnelles entre des variables de design répondant à une optimisation du contraste dans l'espace.
caractère fondamental de la recherche


La recherche contribue à la connaissance d'éléments essentiels à la création de l'espace: la lumière et l'ambiance. Son approche qualitative lui confère un caractère propre à l'approche créative du concepteur-architecte. Elle apporte des réponses quantitatives à des problèmes esthétiques de design et constitue un apport à la méthodologie de design en recherche architecturale.
caractère appliqué de la recherche
La recherche propose de schématiser et de circonscrire visuellement des résultats expérimentaux en vue de créer un outil méthodologique adapté au langage architectural de la lumière. Elle fonde ses bases sur les outils traditionnels de conception de l'espace soient: maquettes, dessins, photos. L'ordinateur et le numériseur, outil contemporain du créateur sont utilisés pour fins d'analyse quantitative des résultats.
Conclusions La recherche démontre que les modifications importantes dans la géométrie d'une ouverture n'entraînent pas nécessairement une modification importante du contraste et du pattern lumineux. Par contre, de subtiles modifications au design d'une ouverture peuvent dans certains cas modifier considérablement l'ambiance générée dans l'espace et même transformer un mur plan en une courbe. La morphologie de l'espace est généralement déterminée par la distribution de lumière. La lumière et l'ombre ne définissent pas toujours la forme réelle des espaces, mais pour un contraste donné jouent un rôle majeur dans l'interprétation du lieu et des ambiances. L'ouverture a donc une incidence majeure sur la conception architecturale. Ces considérations sont précieuses dans la création de l'espace architectural et doivent être considérées dès l'esquisse pour conférer l'ambiance désirée dans un projet. Cette ambiance peut être associée au contraste relevé sur un plan vertical. Le contraste devient donc un indice quantitatif de l'ambiance d'un lieu sujet aux transformations par la lumière.

Direction: Jean-Claude Leclerc. Co-directeur: Léo Zrudlo.