Le Groupe de recherche en ambiances physiques (GRAP) a été fondé en 1997 à l'École d'architecture de l'Université Laval par Claude Demers et André Potvin. Le GRAP se spécialise dans le développement et l'utilisation d'outils de mesure pour la simulation et l'évaluation des ambiances physiques in architecture and urban spaces. Dans un projet, le GRAP privilégie l'approche combinée où plusieurs outils sont habituellement utilisés pour valider les résultats obtenus en fonction des différents niveaux de précision souhaités, autant en recherche et en pratique qu'en enseignement.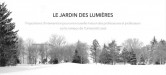 Projects of the Physical ambiences studio of Winter 2017.

Outil de simulation d'un ciel couvert, condition critique d'éclairage en milieu nordique.

Outil de simulation éolienne et d'accumulations nivales pour études de confort thermique.

Visit our Facebook page

This is our YouTube channel.

Projet subventionné par le Fonds de recherche du Québec – Société et Culture. (2014-2017)

Projet de l'atelier Ambiances physiques, hiver 2015

Research Grant, CRSH-SSHRC

Architecture, Energy and Occupant's Perspective